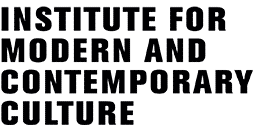 Wednesday 26th February, 13:00-15:00
The Westminster Forum, 5th Floor, University of Westminster, 32-38 Wells Street, London W1T 3UW
Michael Dutton (Goldsmiths)
"Becoming Political: My China"
Michael Dutton is Professor of Politics at Goldsmiths, University of London, and author of, among other texts,  Beijing Time (Harvard, 2008) and Policing Chinese Politics (Duke, 2005).
Full list of the Faculty 'On Violence' seminars can be found online here

The Institute for Modern and Contemporary Culture
University of Westminster Department of English, Linguistics and Cultural Studies
32-38 Wells Street, London W1T 3UW. United Kingdom.