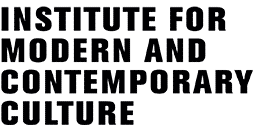 There's a great interview with our own Anne Witchard about her latest book, England's Yellow Peril: Sinophobia and the Great War up on the LA Review of Books blog.
England's Yellow Peril builds on Witchard's previous work, looking closely at British perceptions of China and the Chinese through literature and the arts in the late-nineteenth and early-twentieth century. In England's Yellow Peril she looks at how the outbreak of war accentuated and intensified many feelings of English racial dominance, Empire, and notions of the Yellow Peril that had arisen before the conflict. She concentrates on London's old Chinatown of Limehouse in the East End, where swirling tales of opium smoking, gambling, and interracial romance had became synonymous with the presence of the Chinese.
You can read the interview here: http://blog.lareviewofbooks.org/chinablog/yellow-peril-sinophobia-great-war-qa-dr-anne-witchard/

The Institute for Modern and Contemporary Culture
University of Westminster Department of English, Linguistics and Cultural Studies
32-38 Wells Street, London W1T 3UW. United Kingdom.