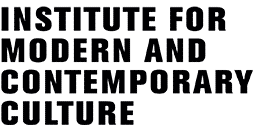 Thursday 4 – Friday 5 June
University of Westminster and Senate House, London
Marx, Form, Isms
A Re-Enactment of the 1920s Debates
Presented by the Retro-Formalism Group in cooperation with Marxism in Culture (University of London) and the Institute for Modern and Contemporary Culture (University of Westminster)
'Marx, Form, Isms' continues the work of the Retro-Formalism working group on literary theory, with a specific focus on political debates. Rather than reconstructing the historical debate of the 1920s between Marxist and Formalist thinkers on how political action and experimental literature might be intermingled, the event would like to open up the text archive of formalist and Marxist thought for today and future purposes in search of an unpredictable past. Beginning with the 1920s debates in the Soviet Union, through the recovery of Formalist theory in Europe through Structuralism in 1960s and 1970s, and renewed interest in cultural critique post-1968 and in the New Left, to the contemporary revivals of discussion of form and value-form in Culture and Marxism, 'Marx, Form, Isms' aims to explore historical valences of Formalist theory in relation to Marxist thought.
Thursday June 4th
The Boardroom, University of Westminster, 309 Regent Street, London W1T
5:30 – 7.30 pm Keynote Lecture: John Roberts (University of Wolverhampton)
Shklovsky, Error and the End of Saint Petersburg
Friday June 5th (day event)
Room 401, University of Westminster, 309 Regent Street, London W1T
10-11am Close Reading workshop on Osip Brik's, "The So-Called Formalist Method" (1923)
Text: osip-brik-the-so-called-formal-method-1
Presented by Anke Hennig (CSM), David Cunningham (IMCC), Anthony Iles (Mute)
11:15-12:15 Panel I: Updating the Marxism-Formalism Debate
Galin Tihanov (Queen Mary, London)  Formalism and Soviet Power: A Necessary Reconsideration
Anke Henning (Central Saint Martins) Trotsky on Strindberg
12:15-1.15pm lunch
1.15-.145pm Panel II: Marxism and Formalism Today
Helen Palmer (Goldsmiths College, London) Queering Defamiliarization: Marxism, Manifestos and Matter
2-3:30pm Film Screening of Duncan Campbell It for Others (54mins)
Chaired by Anthony Iles
Friday June 5th (evening event)
Marxism in Culture Seminar, Torrington Room, Senate House, University of London
5:30 – 7.30 pm Final Roundtable: A Re-enactment of the Marxism-Formalism Debate
Participants: David Cunningham, Anke Hennig, Anthony Iles, Jan Levchenko, Marina Vishmidt
For more details please see the RetroFormalism website at: http://retroformalism.net/en/start

The Institute for Modern and Contemporary Culture
University of Westminster Department of English, Linguistics and Cultural Studies
32-38 Wells Street, London W1T 3UW. United Kingdom.