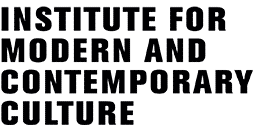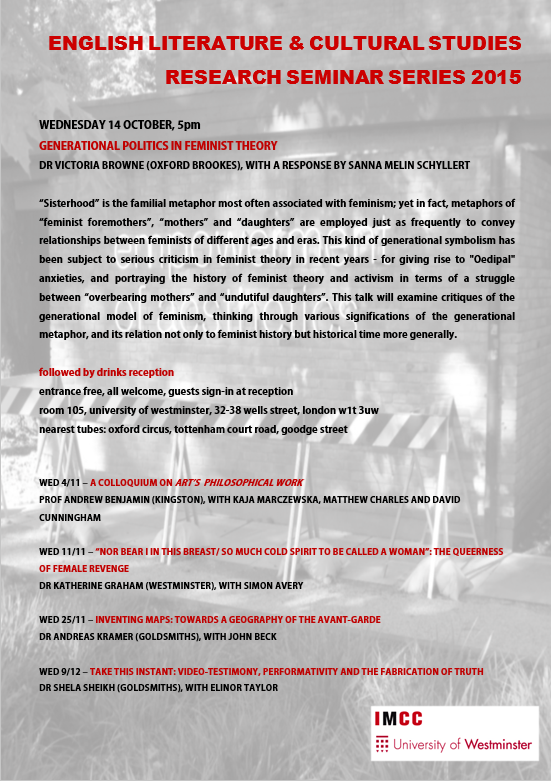 This year's series of English Literature and Cultural Studies research seminars will kick off at 5pm next Wednesday (14th October 2015) with Victoria Browne on 'Generational Politics in Feminist History'. Sanna Melin Schyllert, a doctoral researcher in the department working on feminism and modernism, will respond to Victoria's talk. This first seminar will be followed by a drinks reception to celebrate the start of the new series and to welcome the new members of our research community. The seminar will take place in Room 105, University of Westminster, 32-38 Wells Street, London W1T 3UW (nearest tube stations: Oxford Circus, Tottenham Court Road, Goodge Street).
Please note that our next event will take place three weeks later, on 4th November: a colloquium on Andrew Benjamin's new book, Art's Philosophical Work, with contributions from Andrew Benjamin (Kingston/Monash), David Cunningham, Kaja Marczewska and Matthew Charles (Westminster).
All research seminars are free and open to the public (attendees who are not members of the University of Westminster will need to sign-in at reception). MA students, Doctoral and Postdoctoral researchers are especially encouraged to attend. Please contact either Lucy Bond or Matthew Charles for more details.

The Institute for Modern and Contemporary Culture
University of Westminster Department of English, Linguistics and Cultural Studies
32-38 Wells Street, London W1T 3UW. United Kingdom.