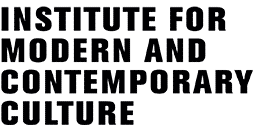 Wednesday 25th February, 1-3 pm
Room 357, University of Westminster, Regent Street, London
"The Queer Art of Crisis"
Nicola Smith, University of Birmingham
The third in the Faculty of Social Sciences and Humanities seminar series of Desire at the University of Westminster. All welcome!
Nicki Smith is Senior Lecturer in Political Science at the University of Birmingham and has published on a range of issues surrounding globalisation and social justice. She is currently writing a monograph on Queer Sexual Economies for Palgrave and has published articles in Sexualities, Third World Quarterly and the British Journal of Politics and International Relations.

The Institute for Modern and Contemporary Culture
University of Westminster Department of English, Linguistics and Cultural Studies
32-38 Wells Street, London W1T 3UW. United Kingdom.