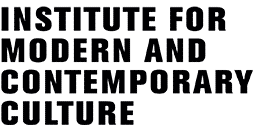 In the first of two collaborations with the excellent blog hosted by the Photographers Gallery in London, Jennabeth Talliaferro, a student on our MA Creative Writing: Writing the City, has contributed a short piece on Erik Kessels' installation at the Gallery, Unfinished Father.
"Like legacy, photography is an overlapping of the past and present. In Erik Kessels' work, Unfinished Father, the artist achieves simultaneous representation of these seemingly separate ideas. His father's dilapidated and gutted Fiat Toppolino is juxtaposed with photographs of car parts orderly displayed. The viewer sees an old car whose former life and purpose are a mere memory."
You can read the rest of Jennabeth's piece here.

The Institute for Modern and Contemporary Culture
University of Westminster Department of English, Linguistics and Cultural Studies
32-38 Wells Street, London W1T 3UW. United Kingdom.