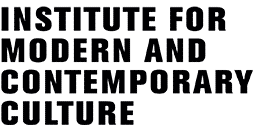 Amanda Millis who is currently studying on the IMCC's Art and Visual Culture MA is giving a talk this evening, Friday 24th June, after a documentary screening at Hackney Picturehouse as part of the Open City Documentary Festival. Directly following the UK premiere of Desert Migration, Amanda with Doc Duhon will be discussing the film and long-term HIV/AIDS survival. The discussion will be framed through the feminist psychoanalytic theory of Matrixial Subjectivity created by the artist and psychoanalyst, Bracha L. Ettinger. They will address matters such as the lack of an HIV/AIDS memorial in London and the immediate need for the NHS to provide PrEP. Following the dialogue, there will be an audience Q&A as well as information on accessible activist actions to provide PrEP on the NHS now.
Further details here: http://opencitylondon.com/films/desert-migration

The Institute for Modern and Contemporary Culture
University of Westminster Department of English, Linguistics and Cultural Studies
32-38 Wells Street, London W1T 3UW. United Kingdom.