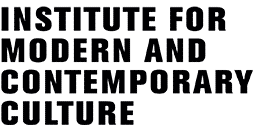 David Cunningham, Deputy Director of the IMCC, is, along with John Gray and Nic Clear, one of the participants in the symposium Ballardian Architecture: Inner and Outer Space to be held at the Royal Academy of Arts on Saturday 15th May, 2-5pm. The event will trace several themes in Ballard's literary analysis of the contemporary built environment, including the concept of spectacle and role of the media in contemporary society, and how Ballard's fascination with so-called "invisible literatures", such as scientific journals, technical manuals and advertising copy, can be seen as a literary counterpart to pop art and the "brutalist" aesthetic of modernity.
Tickets: £25/£16 reductions* (includes a drink)
Further details here.

The Institute for Modern and Contemporary Culture
University of Westminster Department of English, Linguistics and Cultural Studies
32-38 Wells Street, London W1T 3UW. United Kingdom.