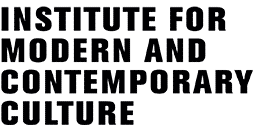 Not strictly a tour around the Institute, but we thought we should flag up the fact that Westminster is taking part in Open House London, the capital's largest architectural showcase, on September 18. Visitors can take a tour of the site of the original Polytechnic opened in 1838, visit the Sports Hall and the site of one of the first public swimming pools in London, and learn the importance in cinematic history of the Old Cinema.
Times: Tours at 10am, 11.30am, 2pm and 3.30pm. Pre-book only, maximum 25 per tour.
Admission: Free.
More information here.

The Institute for Modern and Contemporary Culture
University of Westminster Department of English, Linguistics and Cultural Studies
32-38 Wells Street, London W1T 3UW. United Kingdom.