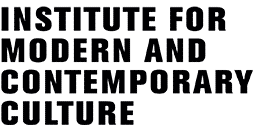 Videos from the Royal Academy event Ballardian Architecture in May, including David Cunningham's talk on Pop art, Brutalism and Ballard's prose of space, have now been posted online.
You can watch the videos here.

The Institute for Modern and Contemporary Culture
University of Westminster Department of English, Linguistics and Cultural Studies
32-38 Wells Street, London W1T 3UW. United Kingdom.