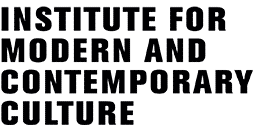 Friday's international conference entitled 'Visual Culture Studies in Europe', hosted by the Institute, was a huge success. A stella cast of leading academics, curators, and editors from Austria, Spain, Croatia, Norway, Belarus, Italy, England, and France including Iain Chambers, Oliver Grau, and Adrian Rifkin came together to discuss the study of visual culture within the context of European universities, art colleagues, and cultural institutions. The audience, a talkative mix of staff and students from Westminster as well as welcome guests from elsewhere in London, Brighton, and as far away as Lithuania, had a day to remember. The conference speakers, members of the Visual Culture Studies in Europe Network, plan to meet again next year, this time in Barca!

The Institute for Modern and Contemporary Culture
University of Westminster Department of English, Linguistics and Cultural Studies
32-38 Wells Street, London W1T 3UW. United Kingdom.