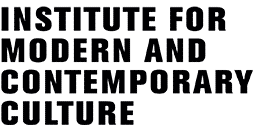 The Nomad Artist in a Transnational Era: Korean Contemporary Art on British Soil
Friday 1st July 2011,14:30-19:00 pm
Multi-purpose Hall, Korean Cultural Centre UK in London, Grand Buildings, 1-3 Strand, London, WC2N 5BW (Main entrance on Northumberland Avenue)
The Institute's Visiting Research Fellow Dr Young-Paik Chun (Hong-Ik University, Seoul) has programmed this exciting forthcoming event.
14:30 – 15:00
Digital Film Screening
Interview with Eemyun Kang
4482 Korean Contemporary Artists Group Exhibition
15:00 – 16:15
Session 1. Theoretical approaches
Chair: Marquard Smith (Director, IMCC, University of Westminster)
Speaker: Young-Paik Chun (Art History and Theory, Hong-Ik University, Seoul)
Commentator: Edward Allington (Head of Graduate Sculpture, Slade School of Fine Art)
16:15 – 16:30 coffee break
16:30 – 17:40
Session 2. Panel Discussion in Art Practice I – Curatorial Practice
Chair: Jade Keun-Hye Lim (Independent Curator / APG in Museum Studies, Leicester University)
David A Bailey (Director, International Curators Forum)
Ji-Yoon Lee (Director, Suum Contemporary Art Project & Academy)
Sook-Kyung Lee (Curator, Tate Liverpool)
17:50 – 19:00
Session 3. Panel Discussion in Art Practice II – Making Art Works 
Chair: Stephanie Seung-Min Kim (Director, Iskai Contemporary Art)
Mee-Kyung Shin (artist)
Chan-hyo Bae (artist)
Jin-Kyun Ahn (artist)

The Institute for Modern and Contemporary Culture
University of Westminster Department of English, Linguistics and Cultural Studies
32-38 Wells Street, London W1T 3UW. United Kingdom.