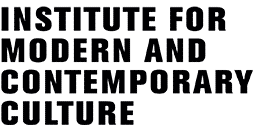 No Room to Move: Radical Art and the Regenerate City
Tuesday 15th March, 2 – 4pm
Westminster Forum, 5th Floor, 32 Wells Street, London W1T
As part of the 'Interpreting Space' module on our MA programmes, members of the Mute team, Josephine Berry Slater and Anthony Iles, will be visiting Westminster to talk about their co-edited collection No Room to Move: Radical art and the Regenerate City (Mute 2011), and the kinds of issues they were attempting to address. This will be followed by questions from students on the module.

The Institute for Modern and Contemporary Culture
University of Westminster Department of English, Linguistics and Cultural Studies
32-38 Wells Street, London W1T 3UW. United Kingdom.