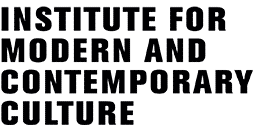 Science Fiction Study Day
British Library, London
Friday 16th September 2011, 9.30am – 5.30pm
Both David Cunningham and Chris Daley will be participating in a panel on J.G. Ballard as part of the British Library's Science Fiction Study Day, accompanying the exhibition Out of this World, on Friday 16th September. Other speakers include Mark Bould, Roger Luckhurst and John Milner.
From utopian to dystopian visions, Futurism to Futurology, the participants will talk about recent projects that feature various aspects of science fiction discourse. Learn about the most recent research trends, methodologies and applications, and get inspired by the ideas and questions examined during the day.
Details and booking here.

The Institute for Modern and Contemporary Culture
University of Westminster Department of English, Linguistics and Cultural Studies
32-38 Wells Street, London W1T 3UW. United Kingdom.