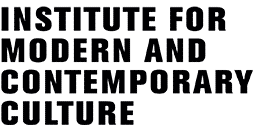 Art group 'Fitzrovia Noir' are organizing the Fitzrovia Intervention Art Trail.
It is Fitzrovia Noir's wish to bring contemporary independent art practice to a wider audience in Fitzrovia, and they will be placing original artwork in 20-25 local shops and businesses for a period of 3 weeks in Spring 2011. We at the Institute are thrilled that our Wells Street location is on the trail.
Please see http://www.fitzrovianoir.com/page23.htm for further details of the trail, dates of artist-led guided tours, etc. Further details on Fitzrovia Noir here.

The Institute for Modern and Contemporary Culture
University of Westminster Department of English, Linguistics and Cultural Studies
32-38 Wells Street, London W1T 3UW. United Kingdom.