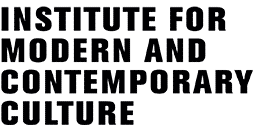 Our neighbours over at Birkbeck are staging their second batch of Night Shift Seminars, and, following Anne Witchard's talk on Limehouse and 'London's Dark Half' last year, our own Alex Warwick will be responding to a paper by Susanne Scholz of Frankfurt University on Jack the Ripper. The seminar takes place on Thursday 3rd March at 7.30pm, in Room B03, 43 Gordon Square.
Other seminars in the series include Matthew Beaumont, co-editor of Restless Cities, on Nightwalking (Friday 21st January, 6pm), and a roundtable with Fiona Candlin, Luisa Cale and Roger Luckhurst on 'Nights at the Museum' (Thursday 5th May, 6pm, Council Room, Birkbeck College, Malet Street). Further details on the series here.

The Institute for Modern and Contemporary Culture
University of Westminster Department of English, Linguistics and Cultural Studies
32-38 Wells Street, London W1T 3UW. United Kingdom.