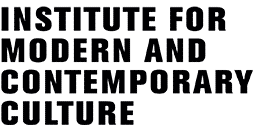 A new solo exhibition of the work of Thomson and Craighead has just opened in South East of Brussels (Watermael/Boisfort), where they are showing six artworks/installations at the same time across two sites, Watermael Station and Vénerie Stables, from 26th October to 18th December 2011. Alison and John will also be giving gallery talks at each site on Saturday 19th November from 15.30pm. Further info at: http://thomson-craighead.blogspot.com/

The Institute for Modern and Contemporary Culture
University of Westminster Department of English, Linguistics and Cultural Studies
32-38 Wells Street, London W1T 3UW. United Kingdom.