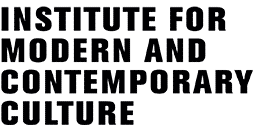 Thomson & Craighead are showing three pieces of template cinema called, 'Somewhere in Sweden', 'A short film about nothing' and 'Five Ghosts' as part of the online component of this years Biennale de Montreal, curated by Paule Mackrous. The exhibit is published by the Centre International d'Art Contemporain de Montreal's electronic magazine, issue 39/2011. Other artists include: Mark Amerika, Grégory Chatonsky, Jhave and Mouchette (aka Martine Neddam). More about template cinema here.
In other news, the duo are showing 'Tallinn Wall' (a re-working of their installation 'London Wall') and 'BEACON' as part of Gateways:  Art and Network Culture at the Kumu Art Museum, Tallinn, Estonia: the museum's keynote exhibition for Tallinn's year as European Cultural capital in 2011. Also, a solo presentation of 'Flipped Clock', curated by Richard Rinehart, will run from June 1st – August 31st 2011 at the Berkeley Art Museum, California.

The Institute for Modern and Contemporary Culture
University of Westminster Department of English, Linguistics and Cultural Studies
32-38 Wells Street, London W1T 3UW. United Kingdom.