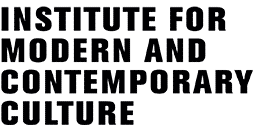 Thursday 15 September 2011, 7pm
Whitechapel Gallery, 77-82 Whitechapel High Street, London E1
Price: £7.00 / £5.00 concessions (includes free glass of wine).
This season's Whitechapel Salon organised by the IMCC in collaboration with the Whitechapel Gallery is on 'Cultures of Capitalism'. In the second of four events interrogating contemporary economies of art and culture, Julie Lomax, Head of Visual Arts, Arts Council England, London, Niru Ratnam, Director of Aicon Gallery, and Victoria Walsh, Research, Tate Britain, discuss The Future of Museums and Galleries: Culture, Education, and Policy. Chaired by Marquard Smith.
Book your ticket at: http://www.whitechapelgallery.org/shop/product/category_id/22/product_id/962?session_id=13148072992e2fd7d4c36c363f076298461909906a

The Institute for Modern and Contemporary Culture
University of Westminster Department of English, Linguistics and Cultural Studies
32-38 Wells Street, London W1T 3UW. United Kingdom.