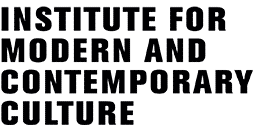 Classifying Films: The British Board of Film Classification in 2012
December 5th 2012, 3.00pm
Room 3.07, University of Westminster, Little Titchfield Street, London
Our friends and colleagues in the Centre for the Study of Law, Society and Popular Culture are pleased to announce the next instalment of the Entertainment Law: Theory Meets Practice series, which will be a guest lecture given by Lucy Brett, Head of Education and an Examiner at the British Board of Film Classification. The talk will involve the viewing of clips from key films from the BBFC's archive! All are welcome.
The BBFC celebrates its centenary this year, and you might also be interested in the current film series and exhibition at the British Film Institute, Uncut, and also the new book Behind the Scenes at the BBFC, to which two members of the Law School at Westminster have contributed.

The Institute for Modern and Contemporary Culture
University of Westminster Department of English, Linguistics and Cultural Studies
32-38 Wells Street, London W1T 3UW. United Kingdom.