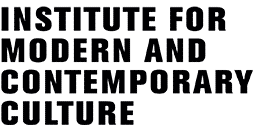 Thursday 16 February 2012, 7pm
Whitechapel Gallery, 77-82 Whitechapel High Street, London E1
Price: £7.00 / £5.00 concessions (includes free glass of wine).
This season's Whitechapel Salon organised by the IMCC in collaboration with the Whitechapel Gallery is on 'Cultures of Capitalism'. Our fourth discussion focuses on future of education under contemporary capitalism, with guest participants Mark Fisher, author of Capitalist Realism, Andrew McGettigan, author of the arts and humanities blog Critical Education, and Andrea Phillips, Reader in Fine Art Practice and Director of Research Studies, Goldsmiths. Chaired by Marquard Smith.
Book your ticket at: http://www.whitechapelgallery.org/shop/product/category_id/22/product_id/1120?session_id=1325609439457568b84811bd9f97bb2cb619476b46
UPDATE: Unfortunately Mark Fisher is unable to participate on this occasion because of illness. Hopefully we'll be able to get him down again for a future event in the Salon series.

The Institute for Modern and Contemporary Culture
University of Westminster Department of English, Linguistics and Cultural Studies
32-38 Wells Street, London W1T 3UW. United Kingdom.