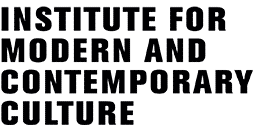 A quick plug for the London Reading Club, a new blog for the book group attached to the MA Writing the City at the University of Westminster, which is run by our own Monica Germana. Check out posts that discuss London writings ranging from Virginia Woolf to Monica Ali here: http://thelondonreadingclub.wordpress.com/

The Institute for Modern and Contemporary Culture
University of Westminster Department of English, Linguistics and Cultural Studies
32-38 Wells Street, London W1T 3UW. United Kingdom.