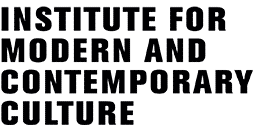 Salon#1: The Future of 'Theory' in Art and Design Education
Whitechapel Gallery, 77-82 Whitechapel High Street, London E1
Thursday 26 September 2013, 7pm – 9pm
Join Curator Kirsty Ogg, artist Uriel Orlow, and Head of Central Saint Martins Jeremy Till for the first in a new series of Whitechapel Salons debating the future of 'theory' in art and design education. Chaired by Marquard Smith.
Tickets £8/£6 concessions (£4 Members). Includes a glass of wine. Book your ticket here.
Co-organised by the IMCC and University for the Creative Arts

The Institute for Modern and Contemporary Culture
University of Westminster Department of English, Linguistics and Cultural Studies
32-38 Wells Street, London W1T 3UW. United Kingdom.