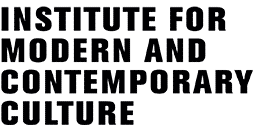 Friday, 22 November, 5-7pm
Room 3.15, University of Westminster, 309 Regent Street, London W1B 2HW
A quick plug for the book launch and reception for an exciting new book, Luhmann Observed: Radical Theoretical Encounters, edited by our colleague Andreas Philippopoulos-Mihalopoulos along with Anders La Cour. With speeches by Hans-Georg Moeller (University College Cork) and Sven Opitz (Hamburg).
RSVP to: victoria.brooks@my.westminster.ac.uk

The Institute for Modern and Contemporary Culture
University of Westminster Department of English, Linguistics and Cultural Studies
32-38 Wells Street, London W1T 3UW. United Kingdom.