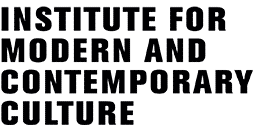 Queer London Research Forum Launch Event
Friday 29 November, 6.30pm
Old Cinema, University of Westminster, 309 Regent Street, London
Following the success of the Queer London conference in March 2013, Katherine M. Graham and Simon Avery are pleased to announce the launch of the Queer London Research Forum at the University of Westminster. This Forum is designed to facilitate interdisciplinary discussions about versions of Queer London c.1850-present. A series of seminars will be held in 2013-14 and we are in the process of developing a web forum to continue debate and dialogue further. The launch event for QLRF will take place on Friday 29 November at 6.30pm in the Old Cinema, University of Westminster (Regent Street Campus). We are pleased to welcome the artist Christa Holka who will be discussing her work with Sam McBean (
http://www.christaholka.com/
). Katherine and Simon will open the event with some remarks about the development and future of the Forum overall. The event will be followed by a wine reception.

The Institute for Modern and Contemporary Culture
University of Westminster Department of English, Linguistics and Cultural Studies
32-38 Wells Street, London W1T 3UW. United Kingdom.