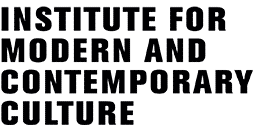 Wednesday 12th February, 1.00-3.00pm
Westminster Forum, 5th Floor, University of Westminster, 32-38 Wells Street, London W1T
"Enduring Violence: Photography in Rwanda After the 1994 Genocide"
Zoe Norridge, King's College London
Dr Zoe Norridge joined King's College London in 2012.  Prior to King's she was a Lecturer in Modern and Contemporary Literature and Director of the Aftermaths Research Strand at the University of York, Department of English and Related Literature. Since being selected as one of ten inaugural "New Generation Thinkers" by the BBC and AHRC in 2011, Zoe has made several short pieces for Radio 3.  She also writes book reviews for The Independent and The TLS.

The Institute for Modern and Contemporary Culture
University of Westminster Department of English, Linguistics and Cultural Studies
32-38 Wells Street, London W1T 3UW. United Kingdom.