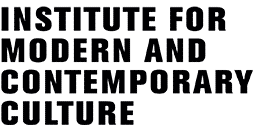 Thursday June 4th
The Boardroom, University of Westminster, 309 Regent Street, London W1T
5:30 – 7.30 pm Keynote Lecture: John Roberts (University of Wolverhampton)
Shklovsky, Error and the End of Saint Petersburg
John Roberts is Professor of Art and Aesthetics at the University of Wolverhampton. His books include The Art of Interruption: Realism, Photography and the Everyday, The Philistine Controversy (with Dave Beech), Philosophizing the Everyday, The Intangibilities of Form and The Necessity of Errors.
John's lecture is the opening address of Marx, Form, Isms. For further details see: https://instituteformodern.co.uk/2015/marx-form-isms-june-4-5-2015

The Institute for Modern and Contemporary Culture
University of Westminster Department of English, Linguistics and Cultural Studies
32-38 Wells Street, London W1T 3UW. United Kingdom.