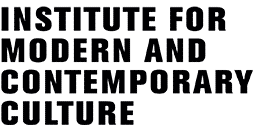 Thomson & Craighead will be showing 'A Short Film about War' as an installation for the first time at the MyWar exhibition at the Foundation for Art & Creative Technology (FACT) in Liverpool, running from March 12 – May 30 2010. It will appear alongside works by Phil Collins, Renzo Martens, Milica Tomic, Knowbotic Research, Harun Farocki, Sarah Vanagt, Joseph Delappe, Oliver Laric, Dunne & Raby, Harrell Fletcher and SWAMP.
Animate Projects have also commissioned Lisa LeFeuvre to write a contextual essay about the piece, which is available on their website to read and download as a diffusion book alongside a streaming version of the work. Read Lisa's essay here.

The Institute for Modern and Contemporary Culture
University of Westminster Department of English, Linguistics and Cultural Studies
32-38 Wells Street, London W1T 3UW. United Kingdom.