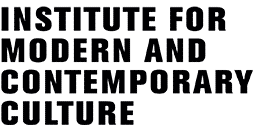 Here is the list of the next series of English Literature and Culture research seminars taking place this semester. All welcome.
Seminars are fortnightly on Wednesday afternoons, from 4pm to around 5.30pm, and will be held in room 106 in the University's Wells Street building.
Wednesday 6th February, 4.00pm – 5.15pm (Joint seminar with Westminster School of Law)
Danny Nicol (Westminster School of Law)
'Legitimacy and Globalised Law in Doctor Who'
Wednesday 20th February, 4.00pm – 5.15pm
Fran Bigman (University of Cambridge)
'A Bit of Himself: British Male-authored Abortion Narratives from Waste (1907) to Alfie (1966)'
Wednesday 6th March, 4.00pm – 5.15pm
Allan Stoekl (Penn State University / IMCC)
'Le Corbusier and the Challenge of a Pascalian Technocracy'
Wednesday 20th March, 4.00pm – 5.15pm
Matthew Charles (University of Westminster)
'Brecht as Educator'

The Institute for Modern and Contemporary Culture
University of Westminster Department of English, Linguistics and Cultural Studies
32-38 Wells Street, London W1T 3UW. United Kingdom.